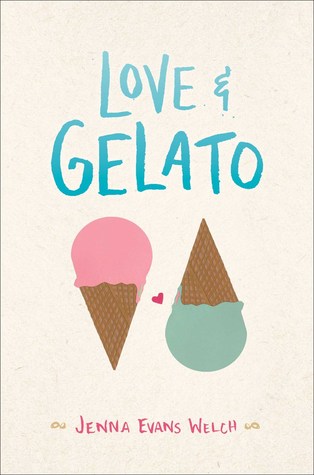 Title: Love & Gelato
Author: Jenna Evans Welch
Published by: Simon Pulse
Publication date: May 3rd 2016
Pages: 389
Genres:  Young Adult, Contemporary, Romance
Format: Hardcover
Source: Purchased
When Lina's mom passes away after suffering from pancreatic cancer for four months, Lina is sent to live with Howard, her mom's old friend who lives in Italy. Upon her arrival, Lina's new neighbor gives her her mother's journal from her first year in Italy, over sixteen years ago. Through the journal and the help of Ren, a cute boy who lives in a house straight out of a fairy tale, Lina begins her journey to finding out what made her mom leave Italy when she became pregnant and maybe the biggest mystery of all, who is Lina's real father?
My thoughts:
So the first hundred pages or so (which in the grand scheme of things, isn't all that many) I felt like I was reading a young teenager's Wattpad romance story, one of the better ones. But I kept reading and ultimately I fell in love with the story and it made me want to travel to Italy and live in a graveyard and go to fancy parties held in mansions. Sound crazy? Well, it is.
This book encapsulates the feeling of young love, including all the ridiculously bad habits of teenagers in love- which I might have found annoying if it wasn't on such a small scale.
Because so much happens in such a short amount of time, it's easy to forget how much insta-love is in this book. However, I think this time around it was an asset to the book and really helped move everything along quite nicely.
From this book, I gained a stronger love for gelato, some more wanderlust, and a love for love. All positive things, if you ask me. Definitely a book to read when you're needing some of the above.