Title: The Unexpected Everything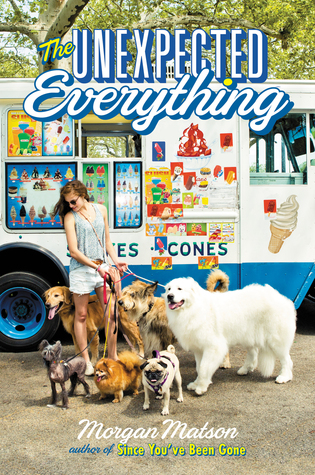 Author: Morgan Matson
Published by: Simon & Schuster Books for Young Readers
Publication date: May 3rd 2016
Pages: 519
Genres:  Young Adult, Contemporary, Romance
Format: Hardcover
Source: Purchased
"If whole galaxies could change, so could I."
Living in a fictional town in Connecticut, Andie has her summer all planned out. She's going to go to a premed summer program and add one more thing to her college resume so she can stand out to admissions boards. However, her spot on the program is revoked after her congressman father gets caught in a scandal and has to lay low for a while. Stuck in the same house for the summer for the first time in years, Andie and her dad have to figure out how to work around each other and maybe actually get to know each other.
Andie, determined to not leave a summer blank on her resume, tries looking for a job, only to find that everything seems to have been snatched up already. Except for one. Now she's never been that interested in dogs, but walking them turns out to not be so awful- especially when it introduces her to Clark- nerdy, kind, wonderful Clark. I really liked Clark because it is so rare for me to find a contemporary book with a love interest as mature about his feelings as Clark is. Andie and Clark's relationship development is brilliant and while at times I was irritated with Andie, she grew and made up for it.
I read this book at the beginning of last summer, which, by the way, is the best time to read this book. It's lighthearted and full of good feelings, as well as fabulous bromance moments and dogs. All great things. There are great character and relationship arcs and you can't help but feel proud of everyone, especially Andie. She really grew through the book and I loved it. I adored her friend group, her love life and the dogs she walks. This book evolved with its characters and it is definitely worth delving into. The dogs were by far my favorite things in the book, but that goes without saying. The Unexpected Everything is best read when in need of some sunshine and summer vibes, and who doesn't need some of that?