If I start looking at one book from my childhood, I can't stop. If you can make it through this entire post, I applaud you. I had to seriously control myself while writing this one because I wanted to include every single book that I still cherish from my childhood. While not all of them made it in here, this is a pretty comprehensive list. I've highlighted a handful just because.
Pumpkin Soup by Helen Cooper
Cat, Duck and Squirrel all have their jobs in making pumpkin soup but when the Duck wants to switch things up, there's a squabble and he leaves their cabin, which leaves the Cat and the Squirrel worrying about him when he doesn't return. I refuse to read this book again for fear of losing the magic that I associate it with from the last time I read it, which was probably when I was seven or eight years old. Hands down one of the most memorable books of my childhood. I still remember all of the senses and daydreams I had when my mom would read it to me. I've held onto it forever and just the thought of it makes me feel warm.
Calvin and Hobbes by Bill Watterson
Calvin and Hobbes always makes me laugh. I still have the page numbers of my favorite comics memorized. Tigers were my favorite animal when I was little and I loved to daydream of being alongside Calvin and Hobbes for all their adventures.
Danny the Champion of the World by Roald Dahl
Roald Dahl was a staple of my childhood but this story was one of my favorites. It was probably one of the first books of his that I read and thought, wow. This is for ADULTS! It's for all ages but younger me didn't really know that. She just knew that it was more substantial than what she had previously read. I reread Danny the Champion of the World countless times and now that I think about it, I need to read it again.

The Complete Tales by Beatrix Potter
Every single one of these is an absolute masterpiece. I have to say, two of them gave me nightmares and even just the thought of them still scares me a little today. But I love all of these books regardless and they took up a significant chunk of my childhood reading.
The Real Fairy Storybook by Georgie Adams
This book of fairy tales told by fairies themselves is one of my favorite childhood books. I especially liked how the fairies conversed in between telling their stories. The illustrations are absolutely magical and now, even from the very first page I still feel transported into the stories.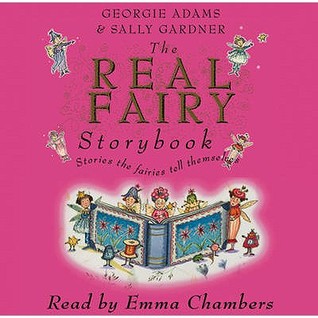 The 39 Clues Series by Various Authors
I was the coolest kid in school when I showed up one day with a book with skulls and crossbones all over the cover. Thus began my 39 Clues journey. I read these at a speedy pace and was devastated when it ended, especially because I found the ending unsatisfactory. However, these books are incredible. I think every child can agree that family scavenger hunts spanning centuries, secret passageways and deadly alliances are interesting.
Nancy Drew by Carolyn Keene
Good ol' Nancy Drew should be in every child's room. I've still got all of my Nancy Drew books. There's sixty four books and I read a good chunk of them, many times over, but I wish I had read more of them.

The Mysterious Benedict Society by Trenton Lee Stewart
I devoured this series and my mom did, too. It's so creative and well written. It got me thinking and really spoke to my imagination. The second book inspired me to want to learn Morse Code (spoiler alert: I didn't). Definitely recommend this book for adventure lovers.
May I Bring A Friend? by Beatrice Schenk De Regniers
The premise of the story is that a young boy is invited to spend the day with the King and Queen and they allow him to bring a friend. However, his friend is never who they're expecting. This is just the cutest book for young readers. I've been an animal lover from day one so this book was right up my alley. I don't know how many times I asked my mom to read this to me as a bedtime story but she was always pretty cool about it.
Rainbow Magic Series by Daisy Meadows
Best friends Rachel and Kirsty stumble upon the world of fairies and in each book, a fairy is either missing, has lost something or was kidnapped by goblins. It's a similar premise for all the hundreds of books but I still ADORED them. I got started on the Rainbow Fairies first, of course, but from there I was reading Crystal the Snow Fairy, Stella the Star Fairy, Pearl the Cloud Fairy and countless other fairies' stories. These books are the backbone of my compulsive reading habits. I recently gave my best friend's little sister the first two books of the original series and hope to indoctrinate her, too.
The Magic Tree House Series by Mary Pope Osborne
I traveled a lot with my parents when I was younger and thoroughly enjoyed going on adventures with them but also with Jack and Annie, who were much closer in age to me. Their adventures around the globe were great and really fed my imagination.
"The more you read, the more things you know. The more that you learn, the more places you'll go." – Dr. Seuss
Honorary Mentions: